Sunday, June 29, 2003
FUN WITH FEATURES | I really love the Washington Post's new Sunday features section called Sunday Source. It's fun, useful and easy to read.

The pitch to advertisers is a little cheesy -- defining the section as one "created for young, energetic and self-actualizing D.C., Maryland and Virginia adults who ... place a huge importance on actively spending their downtime doing exactly what they want with the people they want." Then the Post advises, "Don't get in their way."

But, the content is good. Each week the section contains these short features:
Gatherings: A feature on entertaining at home with a recipe.
Real Deals: A look at new gadgets you can buy.
Tell Me About It: A short advice column.
15 Minutes: A quick how-to project. One showed how the make a room screen.
The Look: Shows what people are wearing out on the streets, paired with "Style Q" fashion Q&A and another column by and expert "Fashionista."
Media Mix: A look at new movie and video releases for the week.
The Week: An extensive guide to events and entertainment throughout the Washington area.
They debuted it a month or two ago and I expect it will be successful. Check out some more pages at the bottom of the post.

It's possible that I'm smitten with it because it's so similar to our Medill Your Saturday project implemented by the Times of Northwest Indiana in October 1999. The section became the best-read feature section of the week, drove Saturday retail ad sales up 200 percent and boosted Saturday single-copy sales 8 percent -- all sustained during three year-plus run.

We pitched a section that focuses on what people do on Saturdays -- chores, shopping, family and fun. The cover features "Best Bets" for things to do that day, a people feature, a project to do with kids and the dominant element is a guide to what else is inside. Inside we had a One-Tank Trip, a Shop! page, a coupon page featuring discounts on Saturday chores like oil changes, a Go Guide calendar, Dinner & A Movie double truck of movie and restaurant reviews, Dinner & A Video recipes and movie reviews for those that stay in, a pet page among other features.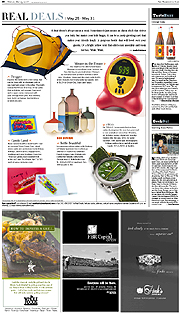 MM
MM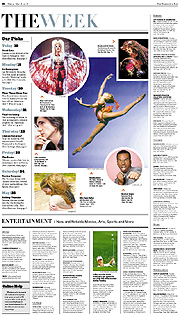 [ 4:01 PM | Posted by Ms. M ]

---
---
Archives
current