Wednesday, November 27, 2002
POKE IN THE EYE | According to Mike Miner in the Chicago Reader and the Chicago Magazine's Press Box column, the Chicago Tribune just received a letter from the Red Eye Press imploring it to stop using the RedEye name.

Here's the funny part: The Tribune's extensive coverage of marijuana issues in the RedEye may actually hurt its case here. (The pic here is from Red Streak, but typical of stories frequently in RedEye.) You see, Red Eye Press is the publisher of the 330-page, pot-bible "Marijuana Growers Guide Deluxe," "Marijuana Botany," the all-new "Growing Marijuana Hydroponically," as well as several other alternative books.

Considering the name the Tribune started with, is anyone surprised this has become an issue? RedEye? Were they high or something?



[ 12:25 AM | Posted by Ms. M ]

---
Monday, November 25, 2002
THE FINAL FRONTIER | These are the voyages of the National Newspaper Association. In its continuing mission to explore strange, new demographics and seek out new readers and subscribers, it is boldly going on a new marketing campaign.

The industry organization has developed a full-page ad designed to run as a public service announcement, featuring actors from Star Trek:The Next Generation and tied to the movie being released this December. It implores readers to use a newspaper to "discover new worlds."

Don't they know our geek readers are too busy watching reruns of the five different Star Trek series on Sci-Fi? They'll probably buy the paper, but will only do it once so they can take the ad and seal it in cellophane, then sell it as a collectable at the next Creation convention.



[ 1:32 PM | Posted by Ms. M ]

---

Friday, November 22, 2002

KIDS SAY THE DARNDEST THINGS | Newspapers' negative brand image problems appear to be starting quite early in life. Check out the lead on this story on career day at an elementary school in San Bernandino, Calif.

Stephanie Misquez, 7, tells us that she would not want to work for a newspaper because a newspaper is "only for parents because it's so boring."



[ 9:44 PM | Posted by Ms. M ]

---

Wednesday, November 20, 2002

NATIONAL ATTENTION | NPR's All Things Considered considered the Chicago youth newspaper battle in a segment yesterday.

Critics say: It's insulting. "You don't have a look into the souls of 18- to 34-year-olds," says Reader media critic Michael Miner. "What you have a look into the minds of marketing people who think they can woo 18- to 34-year-olds -- which is a very different thing."

The Tribune counters: "Short doesn't mean stupid," said co-editor Joe Knowles, comparing the RedEye to Headline News, which updates people on world news in 30 minutes. "No one thinks that's stupid." Besides, he argues, the Red Streak is even more base with sex columns and scarcely clad women.

And finally, the Sun-Times' says critcs be damned: "Who cares what the critics say? The market will decide and we won't know that for some time," Sun-Times editor Michael Cooke said. "The critics didn't like USA Today, remember?"



[ 1:37 PM | Posted by Ms. M ]

---

Monday, November 18, 2002

DOUBLE BAGGED | My Sunday Chicago Tribune came this weekend in two bags: The whole paper came in the usual sleeve. And inside that, all the ad inserts, the magazine and the TV book were sealed in cellophane in the middle of the paper.

I liked it. It made it easier to throw the ads away.

I'm sure this approach makes inserts easier to store and move in the distribution center, as this article in Print World claims, but I wonder what kind of impact it's going to have on the effectiveness of advertising inserts. When they fall out all over the floor you have to touch them and look at them as you're picking them up. It's likely you might take a moment to read them. If they're just a bundle of plastic, how many will open them and flip through?

I think this is a good idea, but one that didn't finish baking. You need to go the next step and give people an index or directory of what's inside -- a sticker on the packet or something they can see through the plastic. List what advertisers have inserts included and, even better, what they're featuring that week. Give people a reason to open it, or at least enough information to let them judge if it's worth their time.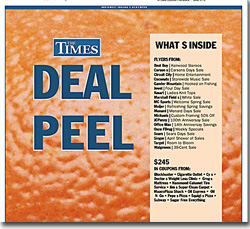 I proposed something similar for our paper -- the Times Deal Peel -- but we haven't moved on it yet. I'm envisioning a newsprint, or heavier paper, folder that would hold all the inserts and would have a list of what's inside. The inside of that folder should be an anchored page of coupons -- readers love coupons, but they're often hard to find in the paper. I think a list of inserts would also be useful. If just flipping through, readers might miss the Best Buy insert. If they know it's in there, they'll dig for it.

Advertising is one area where newspapers have not evolved much in 150 years. We've focused on utility in editorial, but we need to help readers find and use advertising information, as well. The Tribune took a good first step in that direction.



[ 10:29 PM | Posted by Ms. M ]

---
Thursday, November 14, 2002
THE I's HAVE IT | Well, the Idaho Statesman in Boise is trying this youth publication thing, too. It has named its weekly magazine Thr!ve. Notice how they're playing with the "I," not unlike RedEye that is typeset within an "i".

Apparently, this is a very hip letter. Or, maybe, everyone just assumes this is a very selfish generation and the "I" is its natural icon. Other names that appeared to be contenders were: Catalyst, Chomp and Spud. But they didn't pass the I-test.

The editor promises that the readers will be the boss in this, but here are the key topics they plan to present:
Key Topics of Thr!ve
Outdoors: Fishing, hiking, mountain biking, climbing, etc. Both "extreme" and traditional outdoors are covered with a balance between urban and remote activity.
Entertainment: Including movies, music, arts, books, horoscope, advice columnist, food/drink, and restaurant news.
Travel: Idaho and the Northwest with a focus on easy to reach inexpensive getaways.
Environment: News and issues, especially relating to outdoor activities.
Again, no news. Are we that afraid that's it's too hard to edit and present news in a smart, quick-read kind of package that we won't even try it? Falling back on an entertainment magazine format is nothing new. It might draw us in temporarily, but we can't live on candy alone. The best, long-term business models fill people's "needs," not they're fickle "wants."

Man, these youth newspapers are making me old and crabby.

It doesn't appear Thrive -- oops, Thr!ve -- has launched yet, but the editor reports ad sales are strong. This is the second paper in the Gannett chain to serve as a testing ground for the company -- the other is Lansing's Noise. As always, it will be interesting to see what the come up with.



[ 10:02 AM | Posted by Ms. M ]

---
Wednesday, November 13, 2002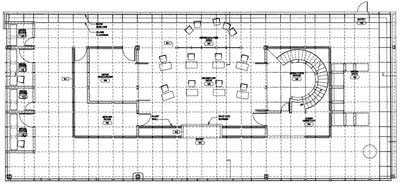 ROOM FOR IMPROVEMENT? | Ifra, an international journalism association, is nearing the launch of its $2 million "Newsplex" -- an experimental lab to help develop the newroom of the future.

Newsplex opens in just a few days at the University of South Carolina. Founders created this mega-multi-media newsroom to study this thesis: if journalists have the right tools, and sit in the right setting, they can be innovative convergaholics.

Lord knows my windowless, bulletin boardless, radio receptionless, one-TV, I-can't-hear-myself-think, half-cubicle set-up is NOT helping me be all the editor I can be. But I can't help but feel that Newsplex is nothing more than a superficial approach to solving some fundamental confusion about our role, our product and our audience.

Looking at their promotional materials made me more, rather than less, skeptical about the approach. There's a 10 minute movie on the site that looks like an episode of Star Trek. Not one of the good ones, though ... more like season one of the Next Generation.

Anyway, I expected to be really excited about what they're trying to do -- after all, I'm a sci-fi geek who has more than her fair share of technological gadgets. (I even bought a C-Pen during a temporary lapse of judgement.) But, after looking at their plans, I just can't see this actually happening because newsrooms are so notoriously stingy about investing in equipment.

In my case: We're still using Photoshop 4; I just received a four-year-old refurbished laptop for my staff to use while out of the office; our photographers have one camera body because we didn't want to put the money into these new-fangled digital cameras; and we're not allowed to view streaming video on our computers because we don't have enough bandwidth to support it. And, no, I don't work for some weekly shopper in Appalachia. I work at a paper that has been considered a top innovator. In fact, it was one of the very first in the United States to paginate.

Newsplex creator Kerry Northrup defined the problems pretty well in an interview with Editor & Publisher about the new facility.
E&P: What's the biggest shortcoming of world media in 2002?

KN: Burned by the Internet development years, hurt by the economic downturn, and confused by all the shifts in technology, most media organizations unfortunately seem to have let go of the rudder and are just reacting to wherever the wind takes them these days. Innovation has rarely been an attribute ascribed to traditional news organizations. It is difficult to find any research and development work going on in newspapers and other mainline media. That is a key reason that Ifra decided to develop the Newsplex.
Clearly there is little to no research and development at any but the very biggest papers. So, perhaps this will help. The question remains, though, is a new room enough to clear the confusion and show news companies the new course they must chart?

I hope so.

[ 1:18 AM | Posted by Ms. M ]

---

Wednesday, November 06, 2002

PRIORITIES PEOPLE | I've been a subscriber to the Chicago Tribune's Web site news alerts for some time. They've done a good job with it, generally, often beating the New York Times system for getting breaking news out. Today, however, made me wonder who's making the calls. In fact, when I read the alert aloud in the office one colleague asked, "Are the RedEye people running everything over there now?"
11/06/02 02:08:02 PM From: "Tribune Alerts" To: Rewrite cc: Subject: Winona verdict

From the update desk of chicagotribune.com:

WINONA VERDICT Actress Winona Ryder has been found guilty of grand theft and vandalism. Details and further developments as available: http://tm0.com/alerts/sbct.cgi?s=142338096&i=667403&m=1&d=3373436

Also in the news this afternoon: Fed cuts interest rates by a half-point. http://tm0.com/alerts/sbct.cgi?s=142338096&i=667403&m=1&d=3373437

And watch the WGN News at Nine tonight for more on both these stories.
Seems like monetary policy -- especially a bigger-than-expected cut that leaves the Fed with few options in the future to deal with this unusual, weak economy -- must be more important that a $5,500 lift from Saks by a wacked-out actress.

Doesn't it?



[ 2:34 PM | Posted by Ms. M ]

---

Tuesday, November 05, 2002

WHAT'S BREWING AT NEW YORK POST? | Wondering if anyone's heard of any innovative stuff at the New York Post. I noticed in today's ABC statements for the second and third quarter that the Post's circulation is up more than 10 percent. That's huge!
Circulation figures
Average weekday circulation of the nation's 20 biggest newspapers for the six months ended Sept. 30 as reported by the Audit Bureau of Circulations. The percentage changes are from the comparable year-ago period.

1. USA Today, 2,230,899, down 0.5 percent 2. The Wall Street Journal, 1,800,607, up 1.1 percent 3. The New York Times, 1,113,000, up 0.3 percent 4. Los Angeles Times, 965,633, down 0.8 percent 5. The Washington Post, 746,724, down 1.8 percent 6. New York Daily News, 715,070, down 2.5 percent 7. Chicago Tribune, 613,429, down 1.3 percent 8. New York Post, 590,061, up 10.5 percent 9. Newsday of New York's Long Island, 578,809, up 0.3 percent 10. Houston Chronicle, 552,052, up 0.04 percent (a) 11. The Dallas Morning News, 521,956, up 2.4 percent 12. San Francisco Chronicle, 512,129, up 0.02 percent 13. Chicago Sun-Times, 479,584, up 0.5 percent 14. The Boston Globe, 463,113, down 1.7 percent 15. The Arizona Republic, 448,782, down 0.6 percent (a) 16. The Star-Ledger of Newark, N.J., 408,557, up 0.3 percent 17. The Atlanta Journal-Constitution, 381,833 (b) 18. Star Tribune of Minneapolis-St. Paul, 379,139, up 0.6 percent (a) 19. The Philadelphia Inquirer, 373,892, up 2.4 percent 20. Detroit Free Press, 368,839, down 0.7 percent

[ 8:10 PM | Posted by Ms. M ]

---
Monday, November 04, 2002
MM
IT COULD BE WORSE. HERE'S PROOF. | The Chicago Tribune RedEye and the Sun-Times' Red Streak have been taking a bit of a beating in this space, but I'm here to tell you there are publications out there even more insulting to the demographic.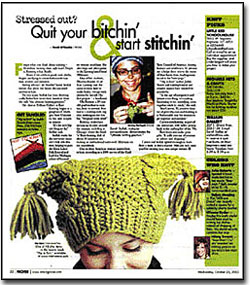 Meet the Lansing State Journal's tab for 18- to 34-year-olds -- Noise. It beat the RedEye and Red Streak out of the gates, launching Oct. 23 and makes much more liberal use of words like ass, bitchin', condom and butt. It also provides an in-depth report about how to have sex in the woods.
How can these publications possibly hope to attract a group for which they have such obvious contempt and low regard?
In the Tribune's case, I'd say it's arrogance. In the Sun-Times case, I'd say haste. But for Noise, the only explanation I can come up with for this is that it isn't even trying to be a "news"paper. It has only three-quarters of one page (ah, that's a tabloid size page) devoted to news -- it contains five briefed versions of Lansing State Journal stories. The other 47 pages are devoted to ads, bar reviews, tech bits and interviews with local celebs who pass on sage nuggets like, "You don't have to do fart jokes to prove you're edgy."
The editor's intro letter, in which Rich Ramhoff apologetically points out that he is (gasp!) older than 30, sets the stage all too well. I've taken the liberty of highlighting some of the really hip parts:
I didn't even want to write this letter because editors' notes often turn out to be 1) self-absorbed, 2) pretentious, or 3) flat-out boring. And NOISE should never be any of those... We're trying to write for and about people our age -- people in their 20s to mid-30s. (OK, so maybe I'm the only staffer who is over 30, but I'm also the worst dresser, too.)
Our stories will be told with snappy visuals as well as strong words. We'll give you a lot of information, mostly about places to go and things to do ... but also things like competing in paintball tournaments, building a yoga butt and celebrating Halloween at work. ...
Most importantly, we want you to have fun reading NOISE. That's why you'll find some strictly tongue-in-cheek articles, like our outdoor whoopee guide.
The next step is to hear from you. Tell us what people and ideas you think we should cover. Tell us when we're full of crap. Go to www.lansingnoise.com to rant. ...
So does this mean that if you're over 40 you shouldn't read NOISE? Heck no, but don't call us if you have a conniption every time you read the word "condom," (see pages 10 and 12). ...
We want to build something that you'd actually want to read. Something that cuts through the clutter of free media - the Internet sites and radio and TV shows. That's the bottom line. So stop reading this lame letter and have fun reading the stuff inside.
Any good things about it, you ask? Well, it has a lot of useful ads, particularly classifieds. And its Web site seems decent, certainly better than the Tribune's RedEye site apparently geared toward advertisers. (Hello, Tribune, we're the wired generation. You can't launch a publication for us that doesn't have a Web site.)
But here's my favorite thing about Noise: It's a weekly.
[ 7:28 PM | Posted by Ms. M ]

---
---
Archives
current