Thursday, October 31, 2002

BETTER DEAD THAN RED? | If I were stranded on a desert island with only one hyper-hip Chicago tabloid ... well, I would probably tie coconuts to my ankles and swim into deep water. But if somehow I found the will to live, I'd want to spend my time with Red Streak.

That is both high and faint praise. High praise because, while the Sun-Times spent a small fraction of the Trib's time and resources developing Red Streak, the scrappy tabloid outdid the Tribune in many respects. Faint praise because the Tribune set the bar so low with its dense, Weekly Reader-meets-USA Today design and puzzling page ones. The Trib made it easy for the Sun-Times.

Without engaging (for now) in a blow-by-blow analysis of the "content," I make a plea to Red Streak writers: Stop telling us how old you are. Wednesday's Red Streak gossip column included an awkward mention of the anonymous writer's age -- 26 (young!). Another writer's Red Streak debut column told readers he WASN'T a member of the target demographic, but that reading his column would be like taking medicine. Uh huh.

As for RedEye's top ten, er, nine, reasons to read the paper: Don't they remember from junior high school that showing sentences are better than telling sentences? Less space telling me why I should read your paper and more space compelling me to read it, please.

Giving the papers away (and probably giving away many of the ads), is one thing. People get kind of funny when they're asked to pay for things. So the papers' battle for readers raises a question: What if the idea of a young tabloid is solid and sustainable, but only for one newspaper?

The Trib and the Sun-Times each printed more than 100,000 copies of the new tabs. Each wants to dominate the "new" market, but could it be that in dividing the market, the two fragments won't add up to enough to keep the tabs going?

The flip side to this is what if the Trib's RedEye ends up with 80,000 subscribers and Red Streak gets 10,000. That may never happen, but for now rhetoric is ahead of reality. Sun-Times editor John Cruickshank says Red Streak will keep publishing as long as RedEye does. But at some point he may be better off spending the money on coconuts.


[ 11:33 AM | Posted by Daniel ]

---
Wednesday, October 30, 2002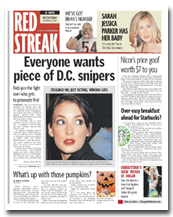 MM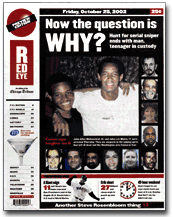 SEEING RED, EVERYWHERE | Well, I have volumes to say about the city's new newspapers targeting 12- to 34-year-olds. Oops, did I say 12? It's really 18, but you can see how I might make that mistake. The Chicago Tribune's RedEye and the Chicago Sun-Times' Red Streak officially hit the streets today. Two new daily newspapers wooing people like me launching on the same day? Why, it's an embarassment of ri..., well embarassment is a good place to stop. Never has there been so much of so little.

On launch day, I was pleased to find out that I live in such a demographically desireable neighborhood -- there are boxes for both papers at the end of the street by my Dunkin' Donuts. The Tribune spent big bucks on newspaper boxes with helmets on them. The Sun-Times, working hasitily, slapped some red stickers on old, reconditioned boxes. From what I've read, its a good metaphor for how the publications came together.
But in terms of what's inside, I do have to say that I think the Sun-Times is on the right path. I think Red Streak is a much better product with much more local, city-focused news. Today, they had actual stories on the cover. The Tribune had a self-promoting, top-ten list (ah, with nine items) about why you should read the paper. Red Streak has better columnists, too. But, then again, the Metromix pages in RedEye are pretty good.
Maybe we can do a JOA -- taking the best of each -- when they start failing next week.
There's much more to talk about, but I thought I'd at least throw the covers up here for our out-of-town friends.
---

Tuesday, October 29, 2002

DIFFERENT APPROACH | I'm not sure where to start on my analysis for RedEye. So, I'll save that for another day when I have more time. I just thought this item was interesting about a new newspaper in Denmark called Dagen -- the Day -- targeting 18- to 34-year-olds. Its approach? Longer, more in-depth stories focusing on lifestyles.

I wonder if they have as much marijuana coverage as RedEye?


[ 11:49 AM | Posted by Ms. M ]

---
Tuesday, October 22, 2002
PIONEERING NEWSPAPER WEBLOGS | It's been interesting to watch newspapers venture into the uncharted territory where journalism crosses online diaries. Weblogs, by design, are part information and part opinion. They can create a very intimate tie between author and reader -- and close ties are something newspapers are having a difficult time knotting these days. It's a tool that could draw readers, build connections, convey information and spark interactive dialogue, but how far can journalist-bloggers go in terms of opinion?

Newspapers are trying to figure it out. There are a lot of different experiments going on:
The Guardian in London uses them -- very well -- to track complex, ongoing stories and tie in coverage and information from outside sources. The Guardian defines its approach as "our pick of the best journalism from around the Web." Hmm ... is this the start of newspapers setting themselves up as the evaluators, prioritizers and organizers of information -- and not necessarily the creators? Instapundit.com's Glenn Reynolds thinks so. "I think we've moved profoundly from the older period in which news was a lecture," he says. "Now the job is that we tell you what we have learned, you tell us if you think we are correct, then we all discuss it."
The Journal-Times in Racine has a couple Weblogs and acknowledges that each is "a little bit newsy, a little bit opinionated." They've started with fairly innocuous topics: Packers and prep sports. (OK, maybe the Packers aren't innocuous in Wisconsin.) Anyway, they're planning a third on called "JT:A look behind the scenes at the decisions that shape newspapers." I wonder how honest they'll be? I can't wait for it to launch.
Kuro5hin has been running with group Weblogs, where anyone can post on any topic and readers can comment on each others' posts. Readers and topic activity also determine what the top news of the day is on the front pages. That's also the model used by Plastic. Newspapers have message boards, but nothing quite like this. Group weblogs would be interesting community-building features. I wonder if legal concerns are blocking these.
And, I'll just toss in two more on the way out: This is an interesting article on the developing "Blogosphere" and the relationship between journalism and blogging. It's an interesting read by John Hiler, co-founded WebCrimson, a software consulting firm based in Manhattan. And The Guardian's article, "Time to blog on" is another good analysis.

Oh, and one more for fun: Fark.com is a wonderful collection of the weirdest news from around the world proving each day that truth is indeed stranger than fiction.


[ 10:05 PM | Posted by Ms. M ]

---

Friday, October 18, 2002

MORE MEDIA NEWS | The Poynter Institute's Web Tips: From the Pros column pointed out this Romensko-like site call IWantMedia.com. It has some good stuff. I'll add it to the list of links on the left.
[ 11:04 AM | Posted by Ms. M ]

---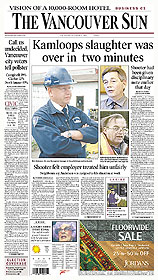 HEADING OUR WAY? |I was flipping through some foreign newspapers online and I was struck at how common front page ads are becoming in Canada and Europe. Wow.

Not only are they common, but they're getting really bold and big. Check out today's Vancouver Sun and today's Le Monde in Paris. The ads basically fight with the dominant art. Ha'aretz in Tel-Aviv had a quarter-page ad on the cover, with big orange punctuation marks.

And speaking of dominant art ... looks like Jackson Sun in Tennessee had its lead election art fall through. At least I hope that wasn't intentional. Yikes. (Click on the image or links for full-sized renditions of the page. These pages are from the Newseum's front pages around the world exhibit -- the link is on the left rail under "design." Daily, they have about 100 U.S. fronts and a few dozen from other continents. One of the more interesting comparisons is the English and Japanese versions of Asahi Shimbun in Tokyo.)


[ 12:42 AM | Posted by Ms. M ]

---

Thursday, October 17, 2002

The Northwestern Readership Institute was here yesterday to talk about younger readers. I really wanted to go but was too busy.
[ 10:06 AM | Posted by natalie ]

---

Monday, October 14, 2002

THE $102.6-BILLION QUESTION | The Aspen Institute released a report this week on a June summit of 24 top media executives who met to ponder the question: "Is great journalism compatible with great business in the context of the current media marketplace?"

Duh. Of course it is.

The 11 media companies represented on the committee made $102.6 billion in sales in 2001. Minus "infotainment" specialists like AOL and Disney -- which, interestingly, lost $5.2 billion in 2001 -- the newspaper companies made a profit of $2.24 billion on sales of $31 billion. That's about 8 percent in one of the worst advertising climates ever. I'd say there's a little money to be made in journalism. The study is interesting reading, though. E&P summarized it this week and the full report is available here or at the Aspen Institute Web site. In the reports you'll see that the group identified these key problems:
The definition of 'journalism' is changing. Oprah is news.
Financial foundations becoming more tenuous. Everyone's going niche and technology like TIVO (A'hem, Daniel) lets people skip ads.
News department a small fish in bigger companies. Mickey Mouse and Christine Amanpour work in the same building.
News culture is defensive and change-averse. Maybe we're averse because it's getting worse.
I'd like to add my own: Managing companies to meet quarterly expectations on Wall Street.
The group proposed solutions, but I don't think they quite have it. They proposed:
Setting up a 'Values' committee on the board of directions of communication companies. No good unless it has some real power. Instead, leaders of these companies should be journalists.
Better communication between the editorial and business. Maybe it was better when we weren't talking so much.
An industry-wide campaign to educate the public about the importance of journalism and raise level of 'journalistic literacy'. This one's a good idea. I can't tell you how many people call asking me to write an "ad" about their business. It's sad we have to do public service announcements, but at least we can get the ads cheap.
That's my two cents -- a mere pittance compared to $102 billion -- but I thought I'd share.
[ 10:45 PM | Posted by Ms. M ]

---

Sunday, October 13, 2002

HOLY NAME CHANGE, BATMAN | I was looking around for other URLs for this site that might be easier to remember. I considered Tomorrow's Newspaper, but it was already taken by a site that doesn't quite have our focus.
[ 3:21 PM | Posted by Ms. M ]

---

Friday, October 11, 2002

EXPENSIVE HABITS | Natalie -- Something tells me I'm not on the short list.

My head is so full of pricey, time-consuming ideas -- focus groups, surveys, original content, etc. -- that it would probably not be a good match.

God only knows who put such ideas in my head.


[ 1:35 PM | Posted by Daniel ]

---



TWO-WAY MUSEUM | Our American Press Institute Business Editor's group went to the Freedom Forum last night to talk about the First Amendment. For a room full of journalists, we knew embarrassingly little about it.

Quick, name the five -- yes, there are five -- protections it guarantees. If you want to see the answer, click on the "comment" link at the end of this post. And, no, there aren't just four.

Anyway, as interesting as the talk was, equally interesting was our session with the of the Newseum afterward. We were talking about ideas for what could be done with the new facility being built at 555 Pennsylvania Ave. (Unfortunatley, it's closed in the interim.)

The mission of the museum, they say, is to help the public and the media better understand each other. So what I'd like to see them do is use those wonderful interactive displays -- where you explore ethics, select stories and shoot photos -- to collect information FROM visitors about what stories they want to read, what they expect and how we could make newspapers more useful to them. Might be interesting to take oral histories of people who have appeared in newspapers and ask them about their exerience.

The Readership Institute surveyed 37,000, but the first incarnation of Newseum got 2.2 million through its doors. There must be some way to collect a valid sample. It's particularly interesting because the museum is a popular stop for junior high and high school groups -- the readers we're most worried about losing.

A quick PS: Though the museum is closed, its most popular feature -- front pages from around the world -- is being continued at the new location and online. It's fascinating.


[ 12:55 PM | Posted by Ms. M ]

---

ANOTHER UNFUNNY BLONDE JOKE | I really hate it when we collectively get duped. It's even worse when it happens on stupid things that screamed for a double-check. It just kills our credibility when the important stories come along.

I am, however, relieved to hear there is no study dooming my kind (natural blondes) to extinction in a few decades -- as reported by the New York Post, ABC, CBS, CNN and several foreign newspapers. They all cited a non-existent study by the World Health Organization.

These days we're letting this stuff slip through because we're rushed, gullible, lazy or believe that because we saw it repeated on more than one Web site we've got multiple-source confirmation. I can't decide if that's better or worse than the era when newspapers used to do it on purpose to sell more papers than the competition.

The Discovery Channel page has an interesting little section on newspaper hoaxes written to intentionally mislead -- and spur sales. My favorite is the 1835 New York Sun series on the "bat-winged, human-like creatures spotted living on the moon." It was confirmed by the Edinburgh Journal of Science ... which didn't exist. Edgar Allen Poe eventually got in on the action, too.

I do concede that not all of today's media hoaxes are rooted in stupid errors. It's pretty much still the business model of the National Enquirer and Star. In fact, the Enquirer's well-known Bat Boy cover is a wonderful nod to Benjamin Day's pioneering New York Sun moon hoax.

On the surface it seems odd that people will continue to pay to be misled. But maybe people just really want their newspapers to entertain them.

With that in mind, I think we ought to look at bringing back serial novels -- they were once a regular feature in many newspapers. Look at what a hit books have become again -- Oprah got people reading, new Barnes & Noble construction is keeping pace with Starbucks openings and Amazon.com actually made a profit. People are reading again. And if we can't give them good stories when we're relaying the news, let's at least give them some good stories.


[ 12:18 AM | Posted by Ms. M ]

---

Thursday, October 10, 2002

REUNION | I'm back in Washington D.C. this week and I have to say, I really missed the Washington Post. I have to run zig-zag patterns to get the paper box because of the sniper, but it's worth it once you get one.

The news section continues to be exceedingly traditional, gray and thoughtful. But, they've really developed an edge in other areas:
Health: They have a10-page section devoted to the topic. This week's had three meaty stories: a historical look at the art of anatomy and how the perception of the human form has changed; an article about boomers who are caring for their disabled siblings as their parents die; and a story about life aboard a Medvac chopper. All interesting, but, even better, they were surrounded by great standing features.

Lean Plate Club is a column looking at eating more healthfully;
Walk the Walk features a new walker each week, where they go and how they stay motivated;
health related letters;
reviews of health books;
column on health care cost and coverage trends;
Quick Study, a digest of new research on research and treatments;
health calendar;
and health news briefs.

There is a lot of ad support here: a directory of doctors, hosptials, insurance plans, body scan places, nursing home, weight loss, plastic surgery, medical devices, pharmaceuticals, health expos and drug stores.

KidsPost: Every day the Post is running this page on the back of Metro or Style, rewriting and reframing the day's news. I've seen other papers try this kind of thing, but most do it weekly. Our own section runs Tuesdays -- and what good is that if the kid picks up the paper on "wrong" day. The Post also is not dumbing it down too much or making it look like a comic strip -- they seem to be aiming for early middle school with a newspaper-like look. I think they have the right idea.
My favorite story today was the reframing of the West Coast port situation. The KidsPost lead: "For a while, it looked like new toys might not arrive in time for the holidays. But yesterday, President Bush asked a court to order West Coast ports to reopen." Talk about bringing it home. The adult lead, FYI: "Saying the nation's economy and security were at risk, President Bush today secured a court order to temporarily reopen West Coast ports and force docworkers and their employers to continue negotiations."

Preserving the flow of toys is a much better argument for reopening.


[ 1:31 AM | Posted by Ms. M ]

---

Wednesday, October 09, 2002

Dan, Are they going to make you edit the S-T "tab?"
[ 6:03 PM | Posted by natalie ]

---

Tuesday, October 08, 2002

ANOTHER STEP | Yep, pretty soon we'll all be working for one big Mediasaurus. This item from the AP shows they're already commingling their money:
Gannett acquires one-third interest in job site CHICAGO (AP) -- Gannett Co., owner of the nation's largest newspaper group, has acquired a one-third interest in the online and print job-search company CareerBuilder LLC. Terms were not revealed, but Gannett will have an equal share of CareerBuilder with Knight Ridder and Tribune Co. "Combining CareerBuilder with the resources of our 94 newspapers, 22 television stations, and related Web sites will further advance our position as the leading recruitment solution in our local markets," Gannett chairman Douglas H. McCorkindale said. At least $1 billion of the estimated $8 billion recruitment advertising industry now appears online. With Gannett's one-third interest, CareerBuilder will now deliver local help-wanted ads to a combined Sunday circulation of 15 million through about 130 newspapers, according to company officials.
What do you think they'll call it?

I recommend Aoltimewarnetribuganneknightpostviacoxclearhearstcastbloomscrippzilla.



[ 7:08 PM | Posted by Ms. M ]

---



SEEING RED | If the Tribune's RedEye is a bad idea, then the Sun-Times' new publication (RedInk?) is a horrendous idea. Sun-Times Lite (reads great! less filling!) will try to appeal to younger readers. (Maybe they can have Kup or writing partner Stella Foster edit the new paper. You can't touch those hipsters!) But this may be a losing battle.

Reading a newspaper may simply be a habit acquired as people age. Of course, this is a dangerous assumption for newspapers to make. They risk sitting back and waiting for their readers to come of age and finding out -- oops -- people don't subscribe when they turn 35.

So we get desperate, painful-to-watch stabs like these. RedEye, at least, will presumably feature original content. The Sun-Times' new paper will almost certainly be full of wire copy, stuff the paper's target demographic is particularly likely to find on the Web -- or have read to them on TV or radio.

But Sun-Times Jr. could have a few things going for it. The Tribune will be charging 25 cents (cheap!) for RedEye. The Sun-Times should consider giving theirs away. Yes, this is fraught with difficulties and downsides. For one thing, even the new, hilariously permissive ABC rules ("Single copies forced upon readers at gunpoint will count only if they constitute less than 51% of a newspaper's circulation") won't let this count toward the Sun-Times' circulation. But the Sun-Times already competes with the Tribune on price for its REAL paper. This is also their best bet for the new paper.

The Sun-Times also competes on simply looking better. This is their second-best bet for their new paper. Sure, the Trib poured so much time and energy into figuring out what youngsters want in their newspaper. But the Sun-Times should -- and probably will -- just go for something pretty and not worry too much about content (hey, you get what you pay for).

The final advantage of the Sun-Times' baby over RedEye?

It'll have a better name.


[ 9:33 AM | Posted by Daniel ]

---
Monday, October 07, 2002
LIKE LEMMINGS OFF A CLIFF | So now the Chicago Sun-Times is going to develop a tab to attract the 18- to 34-year-olds and compete with the Chicago Tribune's RedEye project. I have five words for them: "Psst, you ARE a tab."

And, it's a tab that already has those kind of 18-34 lures like Susanna's Night Out. Susanna hops from bar to bar and takes pictures of herself with celebs or groups of happening people. This city will soon have an embarassment of media riches for an 18- to 34-year-old gal like me. Guess I'll no longer have to read Mary Schmich -- who now realizes that she is dated.

The crew they're bringing in to help with this project comes from the former Copley dailies surrounding the city. These are the folks that brought you the very average Web Street Cafe. This site is geared toward teens, but it still doesn't show evidence of a keen understanding about how to reach the young ones. For one thing, it doesn't look MTV-slick at all. I've checked this site occassionally during the last two years and only recently has it been resurrected and updated.

So, Hollinger's will be rushed and it will be put together by a B team. And, for the Tribune, I continue to have issues with the associations to the name RedEye. My search of the Tribune's own Web site for "red eye" turned up some other associations to add to my own: Birds mating at Brookfield Zoo; fond recollections of POW camps in the Midwest; cameras set up on Chicago street corners to monitor cars; and Elvis Costello T shirts.

So if this isn't the right answer about to reach young people, what is? I think one place to start the hunt is to take a look at where young people spend their time now -- online. Seems like we have more tools than ever at our disposal. Never before could we tell what stories people were reading, how long they looked at them and how they found them. Big companies can watch their own traffic numbers, which skew young. The rest of us can look at Yahoo's top viewed, New York Times' most emailed, The Buzz and Zeitgeist.

There's a lot going on out there that we don't pay attention to in newsrooms. If we won't go out, maybe we need to bring kids in once in a while. At the very least we need to watch and listen instead of relying on the ol' young-people-like-entertainment formulas. In checking the Buzz tonight, I see that KaZaA was the most requested search and it prompted me to look it up and learn about this new peer-to-peer file swapping software that may make sharing MP3s kind of legit.

Hmmm ... that topic would make a good story for a newspaper trying to attract young readers.


[ 9:48 PM | Posted by Ms. M ]

---



HAPPY NATIONAL NEWSPAPER WEEK | To mark the occassion, students at All Saints' Episcopal School in the Lakeway region of Tennessee will get a special vist from reporter Stan Johnson who will talk with students about writing, reading and newspapers.

It looks like pretty standard stuff, but this is big. It's not every day you get a chance to meet an Official Newspaper Cat Columnist. Johnson chronicles his life with Foo Foo and Skittles -- and his wife Vivian -- in a column in the paper's living section. Twice a week, readers get slice-of-life anecdotes like:
"Our youngest cat, Skittles, has a drinking problem. No, she is not an alcoholic, although she would probably suck up booze if she could get it. The problem is that she will drink everything else she can find in a cup or glass. I always keep a glass of water on my nightstand. One night I woke up and heard something kind of strange. Sort of a slurp, slurp sound ... I don't know how long I'd been sharing water with the cat, but I had to start covering the glass."
A couple of my recent favorite columns: Clearly, I'm mocking this a bit, but maybe I shouldn't. From what I can find, this appears to be quite popular in the region. Maybe this is the kind of real-life, human connection readers enjoy. Should we be doing more of this kind of stuff?

Personally, I have different loyalties. How about a little fair comment at least?


[ 12:08 AM | Posted by Ms. M ]

---

Saturday, October 05, 2002

FLIPPED OUT | We don't experiment a lot with newspaper shapes and sizes -- we've basically got two flavors: tab or broadsheet. Maybe we don't mess with size because its such a huge task -- look what a big deal the 50-inch web conversion was in most places. But perhaps we should experiment with shape. Here's a different approach that won best of show in the 2002 "Tomorrow's Newspaper Contest."

The creator describes it: The sports page can be accessed just as easily from the front page by flipping the front page down first, instead of upward. In a similar fashion, the reader may more easily flip backward or forward at any time whilst reading the paper, in order to browse ahead for stories, or check back on a story they have already seen. The reader can now do this more comfortably whilst even standing on a train, tube or bus on the way to work in the morning.
Pretty clever. Designer Dean Jackson from South Africa said he thinks this approach solves many of the problems facing newspapers today -- ease of navigation, difficulty reading in crowded spaces, pages falling out, no connection to youth market.
[ 6:20 PM | Posted by Ms. M ]

---
THE PERFECT MARRIAGE | I love how the Chicago Tribune has linked up with the Web to enhance its classified ads. Classifeds run in the paper, per usual, except some have a little camera icon in them with the Web address for TribPics. When you go to the site, you type in the phone number from the ad and you can see up to five pictures of what's being sold. (To see some cute boxer puppies, type in 618-665-4330 without the dashes.) I first noticed this a couple of weeks ago, but I haven't seen it promoted much. This morning I spent upward of 45 minutes scouring the Tribune's Web site looking for information about how much these cost or how to place one and couldn't find it. That's not good. You can't create good features like this and then hide them. The Chicago Tribune is actually one of 17 newspapers doing this through an outside company called ADpixx. I'm really curious about why they're doing this through an outside vendor. They have a vast interactive machine in the that company and this is a super simple database. There are other companies providing this service, PictureAds is one. The company's site doesn't show a list of clients, but the it does have a nice set of slides about how the process works. Newspapers should have been doing this five years ago; it's a natural way to use the technology. Will be interesting to see how it catches on.
[ 2:10 PM | Posted by Ms. M ]

---
Friday, October 04, 2002

WILL I NEED VISENE? | Looking forward to seeing the Tribune's new tabloid aimed at the 18- to 34-year-old demographic. Glad to see a newspaper trying a new approach for young readers. Will be interesting to see if the tab format, appended stories and entertainment-focused content does the trick. The preliminary description leaves me -- part of their target demographic -- unoptimistic.
I wonder if we need to stop fretting so much about age and look more at centering publications around topics and geography. I care nothing about "entertainment news"; I never have and I doubt I ever will. This study of even younger readers suggests a path like that.
I would, however, be very interested in news from the Chicago Tribune about my neighborbood. The only time I see it mentioned is in the occassional brief should there be a shooting or something. I guess I can't be too critical before I see the thing but, what are they thinking with the name? Here's what I associate with Red Eye:
1. Burning, stinging eyes -- possibly from reading too much. 2. Miserable travel experiences on late night flights. 3. Hangovers. 4. Bad flash photography. 5. Conjunctivitis.
Hope this was a trial balloon.
[ 2:02 PM | Posted by Ms. M ]

---

Thursday, October 03, 2002

WE'RE DOOMED | It really doesn't get any scarier than this item from the wire today about CNN gettin' chill wit y'all.
CNN tries to get hip in search for younger viewers for headline news service NEW YORK (AP) -- Is CNN Headline News down with it? The cable network is trying, judging from an effort emanating from its executive suite to think young. CNN Headline News general manager Rolando Santos told the San Francisco Chronicle this week that he's looking to mix "the lingo of our people" -- words like "whack" and "ill" -- into newscasts to attract young people. And the New York Daily News on Wednesday quoted from an e-mail sent by a network manager to his headline writers, sending them a copy of a slang dictionary so they can be "as cutting edge" as possible. "Please use this guide to help all you homeys and honeys add a new flava to your tickers and dekkos," the message said, referring to graphics on the Headline News screen ...
It continues, but I can't. I have to go sleep this one off.
Peace out.

[ 12:18 AM | Posted by Ms. M ]

---

Wednesday, October 02, 2002

THEY CAME TO THEIR SENSES! | Well, readers finally turned the tide today, pushing the Powers That Be to move the business section back to a section-front location.
On Monday, I was a little disheartened (OK, completely devastated) that very few readers had anything to say about their business page appearing on the back of a section fronted by a siezure-inducing car dealer ad. On Tuesday, only a few calls trickled in, our colleagues still hadn't noticed and the PTB were holding firm. The business staff was so demoralized that, at lunch, we had to go out to hit golf balls at the driving range to work through the stress.
Finally, on Wednesday, hundreds of readers figured out it wasn't a mistake and realized that we actually intended to keep doing this to them. Then, God bless 'em, they called and wrote in droves. The sent hundreds of messages like Mr. Petrosky's:
"I've been reading the paper for over 35 years and I still can't believe you're putting the business section backward. Who thought that was a good idea? Why would you make your paper harder to read? It looks like you did this to put an ad on the front. Well here's some news, I don't need to buy ads. I want to be able to find the news. I think its very, very rude on the part of the paper. If this continues, I think I will make a change."
Well said. I hadn't thought of "rude" but I think it fits. I'm so glad we're back -- well, actually front -- in business again.

[ 11:58 PM | Posted by Ms. M ]

---

Tuesday, October 01, 2002

READERS SAY THE DARNDEST THINGS (No. 2) | I usually dread my phone. My calls are usually complaints, requests to cover ribbon-cuttings or somebody mad about how the local car dealership treated them.
Today, however, I was waiting for my phone to ring so I could bolster my list of those who thought putting the business section on the back of a section starting with car ads was a really bad idea. When newspaper managers won't listen to reason, sometimes they'll listen readers. I feel like going down to the holography museum, doing a Princess Leia message and sending it out to all our readers. You're our only hope.
I thought this one had some nice points.
To: Editor From: Lynn [Withheld ] Subject: Business section
I am expressing my displeasure with the new location of the business section and obituaries. In today's [withheld], articles addressing business, the economy, employment, etc. are most important to the consumer. Placing this very important information in a remote section of the paper (behind the [Withheld] Dodge full page ad) is very problematic ... The first time it appeared that way I had folded that section up and placed it in the recycling bin ... Lynn [Withheld]
This, from one of my voice mails, was the funniest though:
9:47 AM Mystery Caller | Hello I'm calling to tell you how much we really dislike the new way the business and obituary section in the [Withheld] is set up ... The last couple of days the paper has not been easy to read -- This ain't China -- we read from left to right and not the other way around.
Xie xie, Mystery Caller! (Chinese for thank you.)
[ 10:00 PM | Posted by Ms. M ]

---



ONLINE NEWSPAPERS KEEP FOCUS ON OLD MARKETS | This recent study on online newspaper advertising from Borrell Associates and Harvard Business Professor Clark Gilbert scolds newspapers for investing millions of dollars in new technology to serve their same old -- and, ah, dwindling -- markets.
"After seven years of aggressive investment in local Internet operations, the newspaper industry has refocused its efforts not on obtaining new customers with new applications that the Internet can reach, but on serving its traditional advertisers."
The price of this old thinking to newspapers? A loss of $300 million in annual revenue, they estimate, adding this year's total revenues were about $550 million. Haven't newspapers noticed that the dot-com boom consisted largely of companies that set up shop to move in on specific newspaper advertising niches -- and doing it better and more innovatively than newspapers? Newspapers have been selling help wanted ads for more than 150 years, but it took Monster et al. to force them into innovating by making them searchable and highly usable through the Internet and databases. The cost of letting that train go by? Newspapers have lost 40 percent of their lucrative recruitment ads in the last 18 months -- that's $5.4 billion, according to the study. Newspapers have been selling general merchandise through classifieds for just as long, but it took eBay to make it fun, easy, national and profitable. Real estate and car Web sites also beat newspapers at what used to be their own game. How'd they do that? They focused on the end user. They considered how people were going to use the information and how that could make it essential, useful and fun. We need to develop useful content that attracts readers and meets their needs. That is, after all, exactly what advertisers are looking for.
A recent E&P article summarizes the study.
[ 8:39 PM | Posted by Ms. M ]

---



READERS SAY THE DARNDEST THINGS (No. 1) | Here's an example of the many crazy letters and phone calls I get each day. This was in response to an article about a car dealer who retired after 40 years. We made a pullquote out of this statement in the story: "I have some old people who come in and say they don't build them like they used to and I say 'thank God.' Those cars weren't safe, they didn't have crash barriers and get 200,000 miles on them like today's cars can. It's an entirely different automobile today." Pretty harmless? Not to this reader:
To: Editor From: Fred [Withheld ] Subject: 09-24-02 art. Mize
I don't know but I went to school when one had to be careful about what one said or put into print. Over the years I have witnessed a more blunt attitude of we will go ahead with this project no matter what. The Old Testament is chuck full of of how that self-god thinking always came around and bit the originator in the butt. Today's writers and leaders are heading for the rath of God, which is what comes around will go around.The saying, history repeats itself, is a cover up for sinning.
09-24-02 the article about Mr. Stan Mize caught my attention. I confess I'm not a newspaper reader but my wife is. This man makes a staatement about selling unsafe cars and you put it into bold print no less and because the adverage man makes more money today it's all right to rape his wallet for more loot, WOW. Let's see, he put families into cheap dangerous cars to make himself money and you blow a trumpet proclaiming how great he is. God gives talent and intelligence to certain individuals so they can take advantage of us poor not so smart people, great philosophy you have there. I got some advise for you and Mr. Mize; enjoy your heaven on earth because it will soon make alot of dust.
Fred [ Withheld ]
If you spend any amount of time working in newspapers, you develop a fairly thick skin. I let most arrows like this bounce off, but for some reason this got under one of my scales when it arrived Sunday night. Maybe it was the bad week I had. Maybe it was the fact that self-righteous people who can't use punctuation really bother me. Or maybe contemplating eternal damnation makes me crabby. I can't say, really. All I know is I felt compelled to write back. I'm sure it will show up in my bosses email box one of these days.
To: Fred [Withheld] From: Editor Subject: Re: 09-24-02 art. Mize
Mr. [Withheld] --
I believe you misunderstood Mr. Mize's statement. He was saying that his long-time customers thought the old cars were better, but he believes the new cars are much safer and last longer. He was not saying that he knowingly sold unsafe cars.
You may disagree and you are certainly enititled to your interpretation of Mr. Mize's statements. However, you are not entitled to stand in judgement over my soul. Enjoy my heaven on earth? How dare you. You know nothing about me.
I have some advice for you Mr. [Withheld.] It comes from Proverbs 19:2, "It is not good to have zeal without knowledge, nor to be hasty and miss the way."
Editor
Yeah, resorting to Bible verses is pretty lame. But, hey, you gotta fight fire and damnation with fire and damnation. He wrote back, of course. I can't tell if he zinged me or not -- it's a little unclear. I decided not to continue our correspondence. If I'm headed for the "rath (sic) of God," I simply don't have the time.
To: Editor From: Fred [Withheld ] Subject: Typicle,
Qouted your article and the Bible and you get personal. Thankyou for putting me in my place; I'll not venture into your domain again.
Fred [ Withheld ]

[ 2:23 AM | Posted by Ms. M ]

---



THE IMPETUS | On Monday, my section moved from the cover of the D section to F16 -- the back of a section, behind an abomination-of-design classifieds front, sandwiched between sections of car ads and designed in a way that would require readers to flip backward for jumps. And we're wondering why our circulation is down 5 percent from last year? OK, kids, one more time: Readers + Advertisers = Healthy Media Companies and an Informed Citizenry Capable of Perpetuating a Democracy. Too often we're making moves like this -- whoring ourselves to advertisers for a few extra bucks to shore up short-term results. This move was made to create a Classified ads section cover each day with our just-barely-fits press capacity. In meetings, the only aspect of the juggling that got any attention was what ad postions would be lost. How readers would experience the section was an aside. Navigation, usability and creating a brand that says "easy to read" sit atop the Readership Insitute's list of opportunties to increase readership. And, frankly, readers see a lot of slick, packaged information out there in magazines, on the Web, on TV, so their expectations are high. They demand a well organized paper. Newspapers are products and we need to pay attention to the packaging -- with a focus on reader utility. Creating more advertising opportunities isn't enough.< B>We can't focus on half the equation. We're supposed to be there until April when a new press comes online. Maybe I can talk some sense into somebody before that. Wish me luck.
[ 1:28 AM | Posted by Ms. M ]

---



TEST |Test, test. 1, 2, 3. Is this thing on?
[ 12:13 AM | Posted by Ms. M ]

---
---
Archives
current